The Ceremony
Your wedding day is a declaration of love.  You ceremony should reflect the love between you.  It should reflect your personality and interests, too.  A K.I.S.S. ceremony is tailored for you.  I will ask you some simple questions about your history as a couple (ie. how you met, when he proposed, etc) which will help me to include the personal touch in your ceremony.  All of my ceremonies are written with love and great caring.  I have many ceremonies to choose from.  Your ceremony can be held in your place of choice whether it is on the beach or at the venue you have chosen for your reception.  A K.I.S.S. ceremony is tailored for you and can also include personal vows in addition to the traditional vows.
*  Below are unity options that you may want to include in your ceremony.  They are included at no additional fee.
The Sand Ceremony 
This ceremony represents the joining of two lives into one.  Different colors of sand are poured from separate vessels into one to symbolize the joining of your lives as husband and wife. More containers of sand can be added to include children in the ceremony if they are a part of the life that the marriage is creating.
The Unity Candle Ceremony 
This ceremony also represents the joining of two lives into one. Two candles are used to symbolize your two separate lives before marriage.  A third candle is placed in the center and lit by both the bride and groom. This, too, symbolizes that your lives have been joined together.  Additional candles can be added to include children into the ceremony to show their joining in the life that has been created by your wedding day.
The Rose Ceremony 
This ceremony represents love with two red roses. They represents the first gift that you will give each other as husband and wife and will serve as a way to remind each other of this special day when. Red roses have always meant love and you can use this symbolization later in your marriage to communicate love to each other in a special way. This is explained to you and your guests during your ceremony. You can move away from the ordinary with this special segment added to your ceremony.
The SeaShell Toss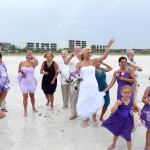 The Seashell Toss is a fantastic ending to your beach ceremony.  You friends and family will journey together down to the waters edge to toss a seashell into the Gulf.  Their blessings and good wishes for your lasting and loving marriage will be captured in the seashells that they toss.  You can have this special addition including in your ceremony.

Music & Microphone For Your Ceremony
If you are having a wedding anywhere outside and more than 10 guests in attendance, you will want a sound system to allow your guests to hear your ceremony and feel as though they are connected to it. Making my voice heard without a sound system will only make your ceremony less personal and the intimacy is lost between you and your guests. Having music played before and after your ceremony can only add a wanted enhancement to your ceremony.  With this option, you can pick your music for you and your bridal party to walk down the aisle to. 
* THIS OPTION CAN BE ADDED TO YOUR CEREMONY AT AN ADDITIONAL COST AND IS NOT INCLUDED IN THE BASIC CEREMONY.
KEEP IT SIMPLE AND SWEET CEREMONY PACKAGES:
On your wedding day, you want romance and happiness.  You want to remember the vows you make, the look into each others eyes, the feel of the rings on your fingers and the sound of being pronounced husband and wife.  Your ceremony should be an expression of your heart and soul.  Simple, traditional or religious, formal or casual, I create and perform beautiful and meaningful experiences tailored just for you.  You and your loved ones will cherish this ceremony for years to come.  I can help create your ceremony and make these things happen in a stress-free manner. 
Keep It Simple and Sweet Basic Ceremony Package

:
Your choice of Ceremony Style (Traditional, Spiritual, Religious)

Options for Readings, Vows, Unity Ceremony, etc.

Unity Ceremony options including: Sand, Candle, Rose

Unlimited phone or email planning as needed

30 minutes onsite preparation prior to ceremony start

No rehearsal is included in this package

Filing of marriage license

Commemorative

Marriage Certificate (your legal certificate will be mailed to you by the county you applied for your license)

Keep It Simple and Sweet Enhanced Ceremony Package

:
Your choice of Ceremony Style (Traditional, Spiritual, Religious)

Options for Readings, Vows, Unity Ceremony, etc.

Unity Ceremony options including: Sand, Candle, Rose

Unlimited phone or email planning as needed

30 minutes onsite preparation prior to ceremony start

One hour rehearsal is included in this package

Filing of marriage license

Commemorative Marriage Certificate (your legal certificate will be mailed to you by the county you applied for your license)
Keep It Simple and Sweet Basic Ceremony Package With Music

:
Your choice of Ceremony Style (Traditional, Spiritual, Religious)

Options for Readings, Vows, Unity Ceremony, etc.

Unity Ceremony options including: Sand, Candle, Rose

Unlimited phone or email planning as needed

30 minutes onsite preparation prior to ceremony start

Ceremony will include music during processional and recessional, along with one musical piece during the ceremony

Microphone to be used during the ceremony

No rehearsal is included in this package

Filing of marriage license

Commemorative

Marriage Certificate (your legal certificate will be mailed to you by the county you applied for your license)
Keep It Simple and Sweet Enhanced Ceremony Package With Music

:
Your choice of Ceremony Style (Traditional, Spiritual, Religious)

Options for Readings, Vows, Unity Ceremony, etc.

Unity Ceremony options including: Sand, Candle, Rose

Unlimited phone or email planning as needed

30 minutes onsite preparation prior to ceremony start

One hour rehearsal is included in this package

Ceremony will include music during processional and recessional, along with one musical piece during the ceremony

Microphone to be used during the ceremony

Filing of marriage license

Commemorative

Marriage Certificate (your legal certificate will be mailed to you by the county you applied for your license)